The 10th Conference of States Parties to the Convention on the Rights of Persons with Disabilities is taking place on 13-15 June 2017 in New York. The conference, marking the 11th anniversary of the adoption of the Convention in 2006, is focusing on "The Second Decade of the CRPD: Inclusion and full participation of persons with disabilities and their representative organizations in the implementation of the Convention". In her statement, H.E. Ambassador Katalin Bogyay, Permanent Representative of Hungary to the UN, highlighted steps taken by the Government to fulfill the aims set out in the Convention.
---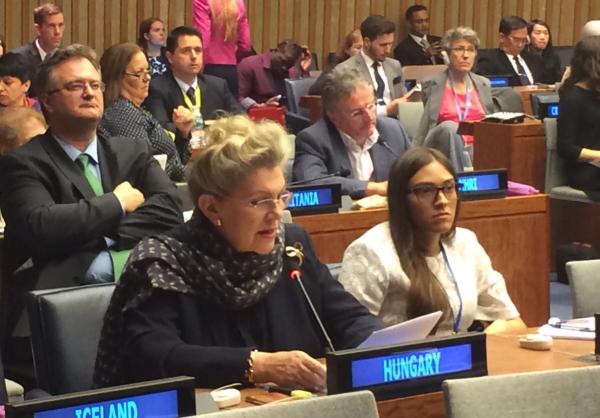 The opening segment of the Conference was addressed by H.E. Maria Luiza Ribeiro Viotti, Chef de Cabinet of the Secretary General; Ms. Theresia Degener, Chair of the CRPD Committee; Ms. Catalina Devandas Aguilar, Special Rapporteur on the Rights of Persons with Disabilities; Mr. Collin Allen, Chair of International Disability Alliance, and representatives of civil society. The three days of the conference has seen a great number of high-level representatives, experts and members of organisations working on disability-related issues. Discussions aimed to explore achievements and challenges in including a disability-focused perspective in all policies of the UN system, and strengthening Member State action in this regard.
Ambassador Bogyay, in her statement, praised Hungarian experts László Lovászy, Member of the Committee on the Rights of Persons with Disabilities, and Ádám Kósa, Member of the European Parliament, both internationally recognized professionals living with disabilities, in embodying active participation and inclusion of persons with disabilities in decision-making.
Read the full national statement, please click here.