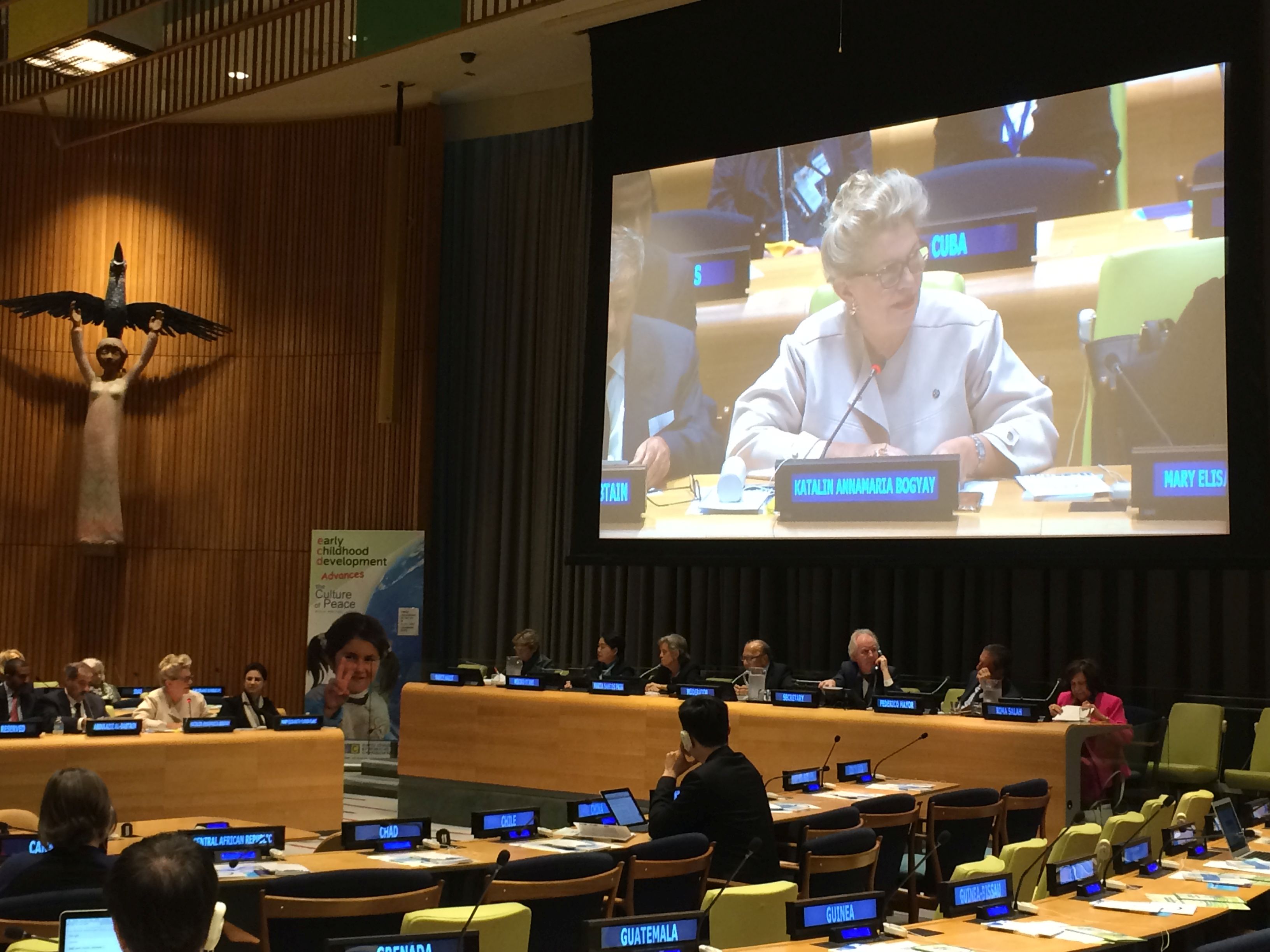 The plenary discussion of the Forum was opened by President of the General Assembly H.E. Mr Peter Thomson, followed by Ms. Ana Maria Menendez, Secretary-General's Senior Adviser on Policy. Dr. Betty Williams, Nobel Peace Laureate 1976 and world acclaimed advocate for children gave an inspiring keynote address, calling on the international community to take action in ensuring a safe and peaceful childhood for the upcoming generation. His Eminence Ahmed el-Tayeb, Grand Imam of Al Azhar also addressed the audience.
During the afternoon discussion, panelists discussed how early childhood development affects a person's and a whole society's future. Panelists included, further to Ambassador Bogyay, Ambassador Anwarul K. Chowdhury, Former Under-Secretary-General and High Representative of the United Nations; H.E. Ms. Mary Elisabeth Flores Flake, Permanent Representative of Honduras to the United Nations, Dr. Federico Mayor, Former Director-General of UNESCO, Ms. Marta Santos Pais, Special Representative of the UN Secretary-General on Violence against Children, Ms. Mikiko Otani, Member, UN Committee on the Rights of the Child, Dr. Rima Salah, Chair of the Early Childhood Peace Consortium at UNICEF, Dr. Nancy Hardt, well-renowned researcher on Adverse Childhood Experiences and Resiliency, as well as Mr. Abdulaziz Al-Babtain, Poet, philanthropist and winner of Totem for Peace. The distinguished speakers discussed how eliminating violence against children, the protection of human rights, social development and education help preventing future extremism.
Ambassador Bogyay talked about her experience in working towards the culture of peace as former President of UNESCO's General Conference. She highlighted that "Diversity is not a burden, it's a source of inspiration. We have to educate our children on the beauty of different cultures, so that they mutually accept each other." Ms. Bogyay presented Hungarian policies that aim to reduce child poverty and foster socio-economic inclusion, recognizing that psycho-social wellbeing and strong bonds with parents  contribute to the upbringing of a healthy new generation ready for peace.
To read the full speech by Ambassador Bogyay, please click here.