Today, the UN and religious leaders and Member States gathered to launch a comprehensive "Plan of Action for Religious Leaders and Actors to Preventv Incitement to Violence that Could Lead to Atrocity Crimes". In her statement, H.E. Ambassador Katalin Bogyay, Permanent Representative of Hungary to the United Nations drew attention to intercultural and interfaith dialogue in conflict prevention, and commended the commitment of faith leaders to fight discriminatory social norms against women, gender-based violence and engage in victim support.
---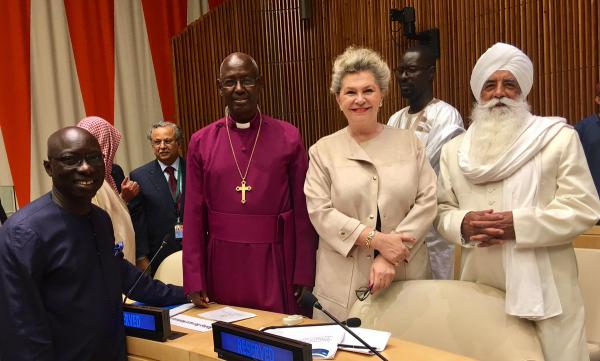 Elaborated by the United Nations Office on Genocide Prevention and the Responsibility to Protect in partnership with the International Dialogue Centre (KAICIID), the Network for Religious and Traditional Peacemakers and the World Council, the Plan of Action is a comprehensive and practical guideline for faith leaders, civil society and Member States to take proactive action to monitor, prevent and fight incitement and early signs of possible atrocities, such as harmful stereotyping, radicalization and violence.
The Plan of Action is another stepping stone in the Fez Process, which was initiated in 2015, with the Fez Declaration and Plan of Action. The new document addressed a variety of stakeholders, including Member States, representatives of religious organisations, civil society and academia, to take tangible, everyday steps to eliminate incidents of incitement in their communities.
The meeting was opened by H.E. Mr. Adama Dieng, United Nations Under-Secretary-General and Special Adviser on the Prevention of Genocide and Secretary-General Antonio Guterres. Religious leaders of all big faiths travelled to the meeting to present their insights and ideas in implementing the Plan.
H.E. Ambassador Katalin Bogyay welcomed the Plan of Action, and underlined the importance of dialogue between religions as a means of building trust, empathy and mutual respect among different communities. She called on representatives of all faiths to stand up for violence against women in conflict, fight impunity, and take leadership on re-integrating victims of gender-based violence into their communities, and build a narrative against should take a firm stance against stigma and discrimination.
Ambassador Bogyay also presented Hungarian policies of assisting Christian and other religious and ethnic minorities in the Middle East.
Hungary supports, for instance, in the Middle East, the rebuilding of churches, schools, houses of persecuted Christian families with a robust programme. We also concentrate on education, with a strong scholarship programme.
To read the full statement, click here.