H.E. Ambassador Katalin Bogyay, Permanent Representative of Hungary to the United Nations while supporting the statements of the EU and the ACT Group also addressed today the third thematic session of the Working Group on the Revitalization of the General Assembly. In her speech, the Ambassador underlined that by building on the achievements of making the selection process of the new SG more transparent, the Working Group should make sure that geographical rotation, gender balance, and best qualifications, equally important principles guide the selection of new executive heads of the Organization.
---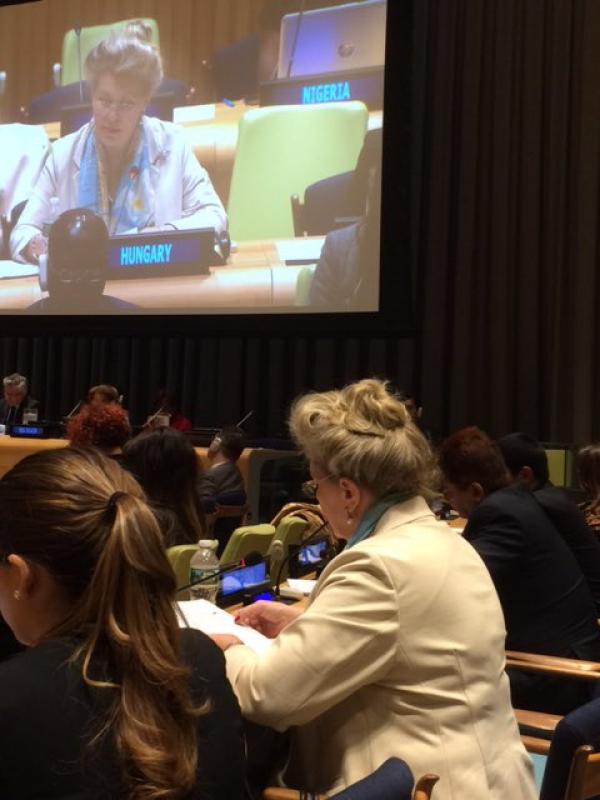 Although the selection of the new SG has been concluded with a great success, Member States should continue to work together to support the SG in his commitments for achieving gender parity and equitable regional representation  while appointing executive heads of the Organization. It seems that the discussion on this cluster of the GA revitalization process will actively continue, since more than 25 Member States spoke in the Trusteeship Council today.
Hungary called for full implementation of the resolutions 69/231 and 70/305, echo the ACT Group`s request for enhanced communication between the Security Council and the General Assembly, especially concerning the publication of the result of straw polls and underlined that no State should have an exclusive right to fill specific posts. Senior UN officials should be selected by the SG independently, in a competitive process, and on the basis of the expertise of the candidates, while due regard being given to fair geographical distribution and to gender balance.
To read the full statement of the Ambassador, please click here.