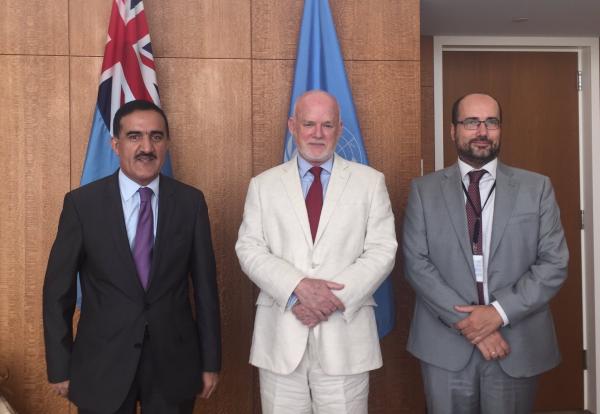 After the first water dialogue meeting of 22 March on World Water Day, a second dialogue was convened by the President of the UN General Assembly on 30 May to take stock of progress made and exchange views on the relevance of possible next steps. At the meeting, the co-moderators from Hungary and Tajikistan presented their draft summary of the first discussion of 22 March to the Member States and stakeholders, as circulated by the Office of the President of the General Assembly (PGA) and sought views and comments by delegations. They have asked participants to look at convergences and identify areas in which progress can be made on improving the integration and coordination of the work of the UN on the water-related Sustainable Development Goals (SDGs). 

The dialogue revealed that tackling the challenges related to the integration and coordination of the UN's work on the water-related goals and targets is highly timely, and it needs constant work towards solutions in a constructive spirit.

The most important findings to improve the integration and coordination, as suggested by participants for the way ahead: 1. Conduct a review of ongoing activities of the UN Agencies and mechanisms with the aim of identifying potential gaps, overlaps and areas for enhanced cooperation; 2. Strengthen UN-Water and its mandate, to better interact with the Member States. 3. Explore the added value and drawbacks of platforms, providing coherent policy guidance and oversee monitoring and follow-up; 4. Catalyze the use of existing initiatives and frameworks that could integrate relevant activities, and resources by sharing experience and best practices, mobilize new sources of funding and build capacity, also at the national and local level; 5. Ensure greater integration of water-related goals and targets into the broader High Level Political Forum (HLPF) framework; 6. Use the National Voluntary Reviews within HLPF to ensure countries address water challenges; 7. Invite the UN Regional Economic Commissions to host discussions on water resources and share best practices and lessons learned; 8. Explore linkages with the ongoing reform of the UN Development system.

Hungary welcomes that the PGA offered the opportunity for co-moderators to brief the Member States about this outcome on 8 September at the General Assembly's stocktaking event on overall progress on SDGs, which represents an important momentum for Member States' further thinking on how to enhance cooperation among all relevant stakeholders.