Ambassador Katalin Bogyay, Hungary's Permanent Representative to the UN was invited to speak about the role of women in water diplomacy as key to economic empowerment at the side event of the UN Commission on the Status of Women organized by the Women for Water Partnership. 
---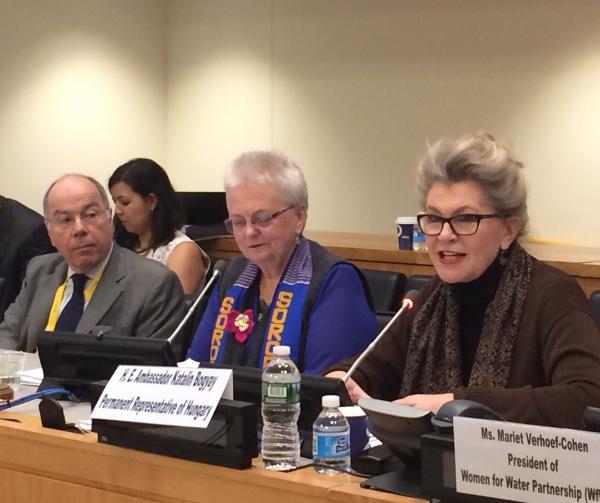 ​
The session focused on the influence of women in the water sector as well as the importance of water and sanitation for women's empowerment in terms of equal economic opportunities.
The interventions revealed strong interlinkages of Sustainable Development Goal (SDG) 5 on gender equality and SDG 6 on water resources management to achieve sustainable development and inclusive growth.
Ambassador Bogyay illustrated best practices from Hungary as means to promote gender equality through economic participation. She called for women's involvement in decision-making and investing more in local solutions for water and sanitation products and services, in order to fulfill their full potential through equal opportunities and thereby contributing to sustainability.
As Permanent Representative to the UN, Ambassador Bogyay promotes preventive diplomacy, where even smaller countries can have an important contribution to peace and security by building bridges in areas like science, water resources management and gender equality.
As co-moderator of the working level dialogue of 22 March under the auspices of the President of the General Assembly on 'Improving the integration and coordination of the work of the United Nations on the water related goals and targets under its sustainable development pillar', the Ambassador attaches great importance to the successful implementation of the 2030 Agenda for sustainable development and women's active involvement therein.
To read the full statement of the Ambassador, please click here.