On 21 April, United Nations Secretary-General Ban Ki-moon and World Bank Group President Jim Yong Kim formally announced the appointment of 10 Heads of State and Government, as well as two Special Advisors, to the High-Level Panel on Water. 
H.E. Mr. János Áder, President of Hungary also joined the international coalition of Heads of State and Government with the aim to mobilize global support to implement Sustainable Development Goals 6 (SDG6): "Ensure availability and sustainable management of water and sanitation for all", and targets related to water contained in the 2030 Agenda.
---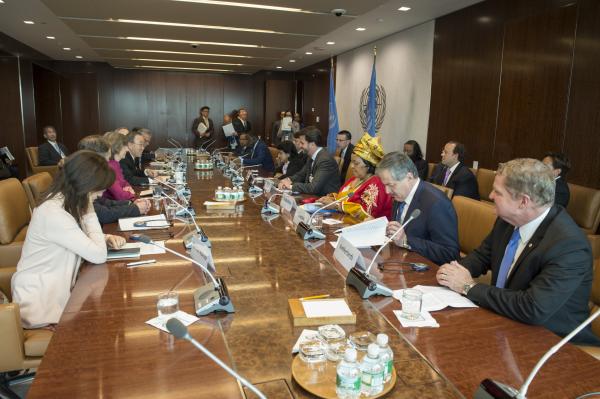 The High-level Panel on Water held its inaugural meeting on 21 April in New York, on the margins of the High-Level Thematic Debate on Achieving the Sustainable Development Goals.
The Panel will provide the leadership required to tackle these challenges and champion a comprehensive, inclusive and collaborative way of developing and managing water resources, and providing improved access to clean water and sanitation.
On the occasion of the first meeting of the panel, President János Áder of Hungary underlined that water is the most critical natural resource of the 21st century. Our development, the wellbeing, food, health and peace of our children will depend on how quickly we shift for a sustainable pathway of managing our water resources. We see the goals, but the road of transformation still needs to be charted. We are racing against the time but also against the consequences of our habits and earlier practices.
To find out more on the panel and to access the joint statement of its members, click here.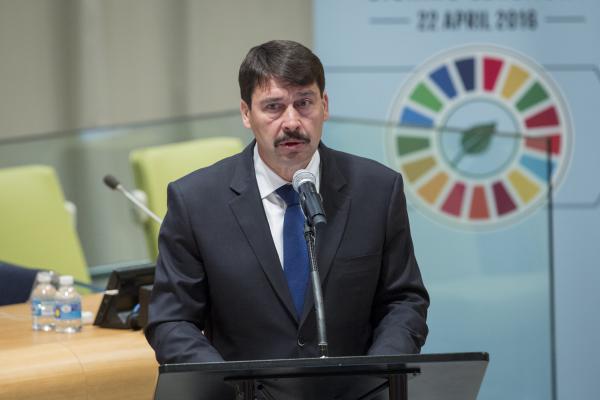 At the High-Level Thematic Debate on Achieving the SDGs, President Áder underlined that the timely implementation of SDG6 on water is a cornerstone of realizing sustainable development. Being committed to continue the active role undertaken in designing the SDGs as co-chair of the Open Working Group, Hungary is turning towards implementation. In this spirit, Hungary will host the Budapest Water Summit 2016 in late November, building on the successes of the first Budapest Water Summit held in 2013.
The same day, President Áder had bilateral meetings with Croatian President Kolinda Grabar-Kitarović, President of Mauritius Ameenah Gurib, co-chair of the High-Level Panel on Water and UN Special Envoy for Disaster Risk Reduction and Water Dr. Han Seung-soo, Special Adviser of the Panel.