On Monday, 15 April, on the occasion of the latest Circle of Women Ambassadors luncheon, the Permanent Mission of Hungary welcomed President of the General Assembly H.E. Ms Maria Fernanda Espinoza Garcés, Deputy-Secretary-General H.E. Ms Amina Mohammed, Executive Director of UNICEF H.E. Henrietta H. Fore, Under-Secretary-Generals H.E. Ms. Izumi Nakamitsu, H.E. Ms. Catherine Pollard, H.E. Ms. Alison Smale, as well as Assistant-Secretary-Generals, Ambassadors and Board members of Women's International Forum, to discuss two key topics: the rights of persons with disabilities as well as preventing and eliminating sexual harassment at the UN.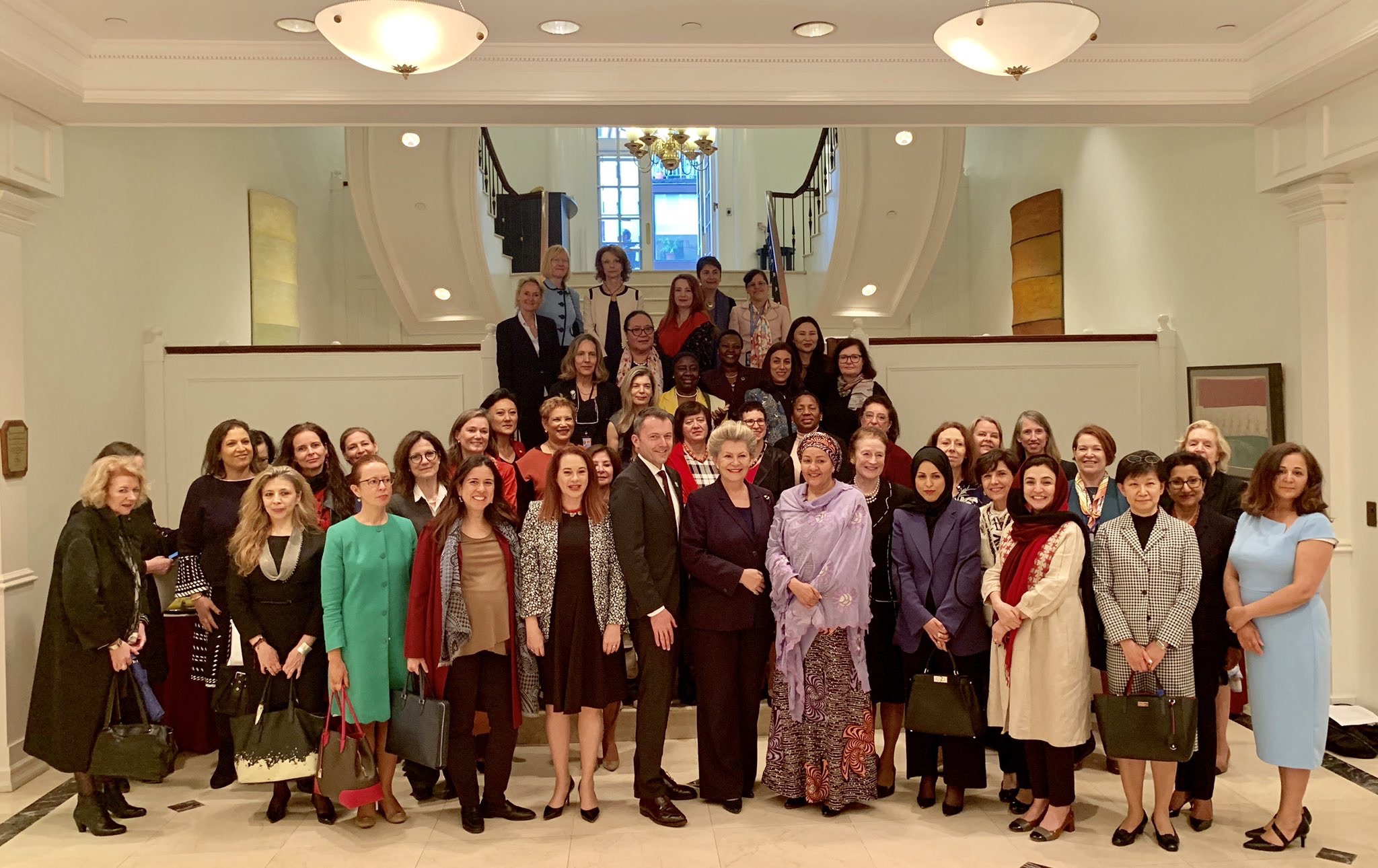 Addressing a full house of high-level women UN representatives, Ambassadors and guests, President of the General Assembly H.E. Maria Fernanda Espinoza Garcés highlighted the importance of empowering persons with disabilities – 1 billion people around the world - in order to achieve the SDGs. Against concerning numbers of women and children with disabilities being left behind even more than men, she reminded of her campaign to achieve universal ratification of the Convention on the Rights of Persons with Disabilities, currently signed by 177 States Parties. Her Excellency recalled that at the General Assembly, only one Committee is chaired by a female representative and that among 21 vice-presidents of the GA, there is only one woman, thus calling on Member States to make all efforts to achieve gender parity at the UN.
Deputy-Secretary-General H.E. Ms Amina Mohammed underlined the important changes in the UN system in favour of gender equality, and affirmed, among others, the training of women and parental leave schemes as key contributors to women's empowerment. She emphasized the crucial nature of eliminating stigma related to mental health conditions as well as disabilities, for the benefit of women.
H.E. Ambassador Jürg Lauber, Permanent Representative of Switzerland to the UN presented the Gender Champions Initiative, which he brought to New York, and encouraged Member States to adhere to the Network.
During the luncheon, Ambassador Bogyay also welcomed new Ambassadors, and facilitated an informal discussion among representatives sharing their ideas and initiatives.
The Circle of Women Ambassadors is a series of events hosted by the Hungarian Mission, giving an opportunity for women Permanent Representatives and Ambassadors to get together and talk about issues that are high on the UN Agenda.