H.E. Mr. János Áder, President of Hungary participated in the United Nations Climate Action Summit 2019, which was convened by the Secretary General of the UN on 23 September 2019 on the margin of the 74th Session of General Assembly. President Áder also held bilateral meetings with H.E. Mr. António Guterres Secretary General of the United Nations, H.E. Mr. Abdel Fattah el-Sisi President of Egypt, H.E. Mr. Uhuru Kenyatta President of Kenya, H.E. Mr. Lenín Moreno President of Ecuador,  H.E. Mr. Jean Crétien former Prime Minister of Canada as well as H.E. Mr. Qu Dongyu, Director-General of the Food and Agriculture Organization.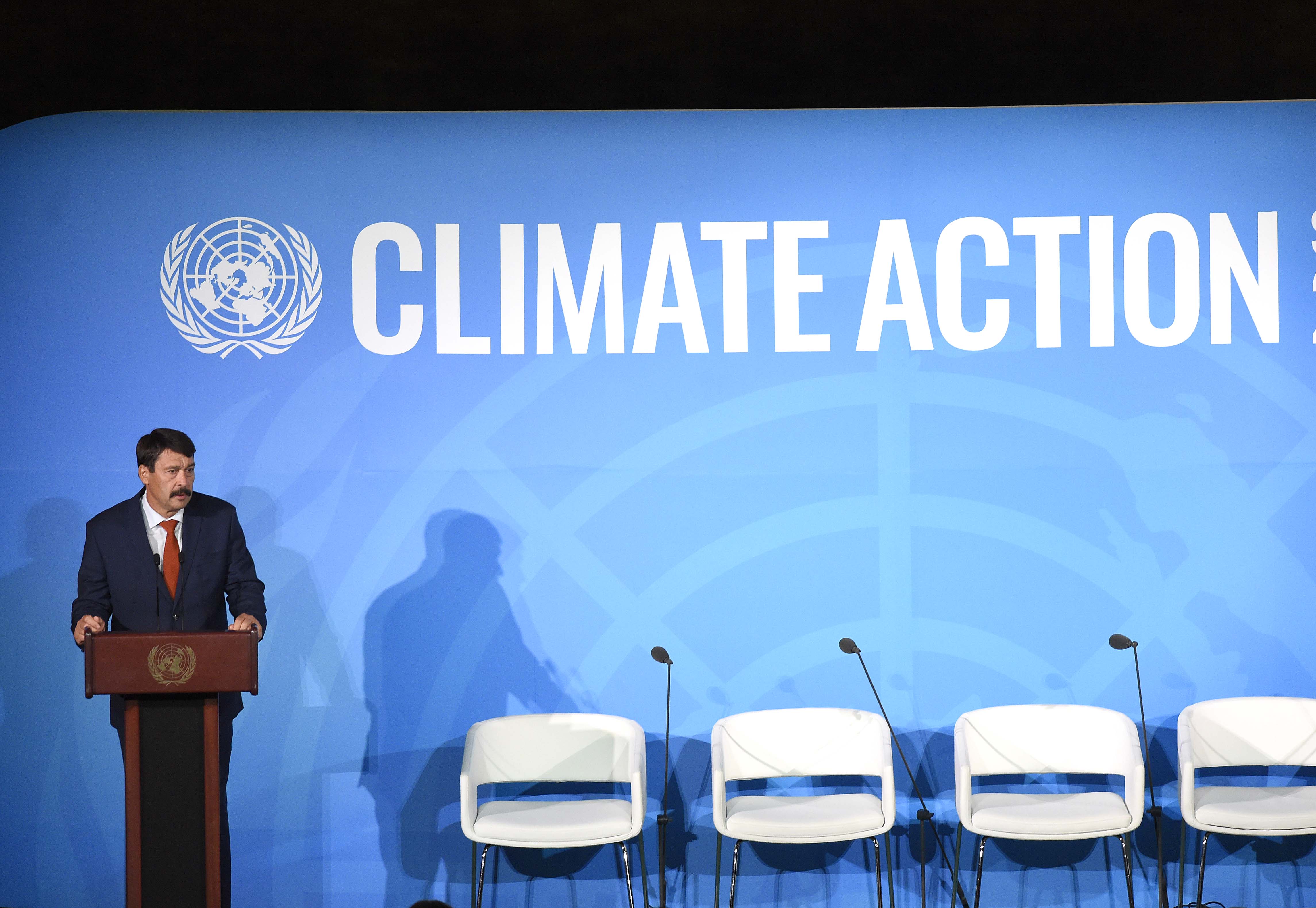 During the Climate Action Summit 2019 President Áder highlighted that the situation caused by the climate change has worsened since the adoption of the Paris Agreement in 2015. The Hungarian President – in line with the request of Secretary-General Antonio Guterres – came with tangible results and not empty promises. President Áder addressed 3 questions in his speech: Where does Hungary stand with climate performance? Where do we want to get to? What are we going to do about it?
In his announcement, the President highlighted that since 1990 Hungary has reduced CO2 emissions by 32% and reduced energy consumption - while the Hungarian economic performance has increased significantly. The 24 largest cities in Hungary have joined the most ambitious international climate zone and are members of Under2 initiative. Hungary will also increase its solar power capacity by ten times by 2030, end using coal as an energy source and expand its nuclear power plant production. The combined effect of the three measures will mean that 90% of Hungary's electricity production will be CO2 free by 2030 and not by 2050. Hungary will improve the energy efficiency of its buildings by at least 30% by 2050. By 2030, Hungary will use only electronic buses for public transport in each of the cities having a population of more than 25,000.
The President reaffirmed that Hungary is continuing its reforestation program. In the last 100 years, the size of the forest-covered areas in Hungary has doubled. By 2050, Hungary will increase its forest coverage by 30%. President Áder also raised the significance of the Virtual Power Plant program, which was launched 10 years ago. The program has so far allowed the country to save more than one-quarter of the power output of the Hungarian nuclear power plant. 
Last but not least the President announced that between 2019 and 2021 Hungary will support international climate funding with nearly USD 6 million, a part of which will go to the Green Climate Fund.
To read the full speech of President Áder, please click here.